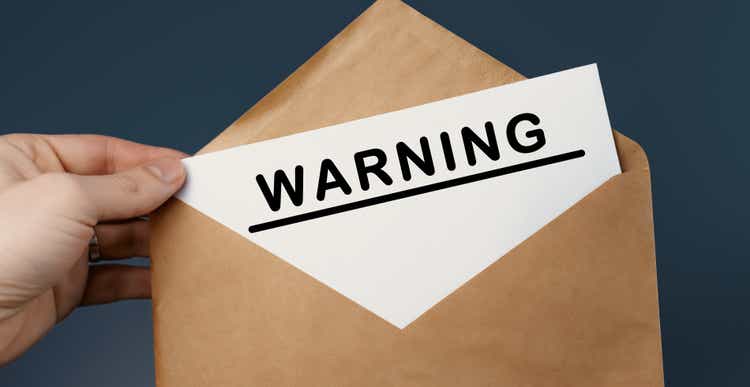 As is almost a yearly tradition, many Seeking Alpha authors dutifully presented their lists of stocks for 2023. Growth stocks, dividend stocks, real estate investment trusts ("REITs"), you can find a list of your interests on just about any topic. In this article, I will present my contrarian take on such lists: 7 investments to avoid in 2023. Note: I wanted to publish this article a couple of week earlier, but a nasty prolonged flu prevented me from doing this. Nevertheless, even late advice is better than no advice at all, so I decided to still publish this article.
Last year, I wrote a similar article about which investments to avoid in 2022. I already have written an article in which I compared my predictions with the performance of the S&P 500 (SP500), which you can read here. As it turned out, I was right with 6 of my 7 predictions. This is an unexpected accomplishment which I consider to be at least partly caused by luck.
While the year 2022 was mostly dominated by inflation and rising interest rates, I believe the main theme of 2023 will be a recession. How large or small this recession will be, and how long it lasts, is still up in the air, but it is very likely that we will experience one. I based some of my predictions of investments to avoid on the notion that there will be a recession in 2023.
In general there seem to be fewer obvious examples of wildly overpriced assets at this moment than one year ago, but this does not mean that there are no assets with room to drop. As I did for 2022, at the end of 2023 I will compare my predictions with the performance of the S&P 500 to see whether I was right with my predictions. So here it goes:
#1 Tesla
I already hinted that Tesla, Inc. (TSLA) or other electric vehicle ("EV") producers could have their place on my list for 2023, so here I follow through with this. I am not going to discuss the whole bear case of Tesla here, because there are many other Seeking Alpha authors writing very detailed analyses of TSLA stock which are much better than I can do in this brief overview. I am going to stick to the most important reasons why I expect the stock to continue its drop in 2023:
First, look at the difference in valuation between Tesla and its competitors: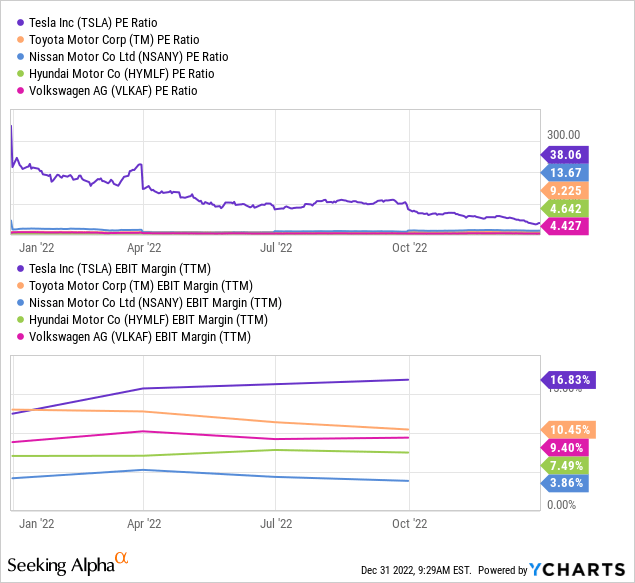 Graph 1: Tesla's P/E ratio and EBIT margins compared with some of their competitors (Source: YCharts).
The P/E ratio of Tesla has come down dramatically during last year, but it still seems very high compared with many other competitors. As you can see in the second part of the graph, Tesla's margins are much better, so the company might deserve a better valuation. But as Tesla has recently decided to give up its margins, this advantage is likely fading.
And, let's face it: competition in the EV market is growing, and Tesla is no longer the only viable EV producer in the mid- to upper price segment. As a result of this competition, margins are going down. Also, a CEO which seems to be behaving in an unpredictable and erratic way is usually no boon for share prices. This, coupled with a looming recession makes me expect that Tesla's share price will continue its underperformance in 2023.
#2 Oil and big oil producers
In case of a recession, usually demand for oil and raw materials drops, which impacts the price. As you can see in the graph of the Brent Crude (BNO), the oil price experienced some wonderful years after the crash during covid in the beginning of 2020.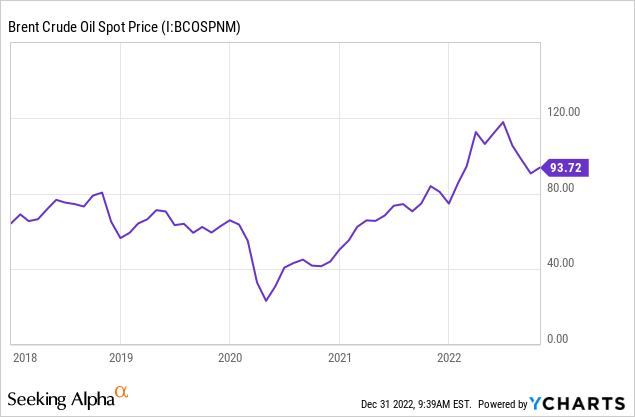 Graph 2: Brent Crude Oil Spot Price during the last 5 years (Source: YCharts).
I do not expect a huge crash, but I do expect the price to consolidate during 2023 and at least not outperform during this year. Even if we manage to avoid a recession, the oil price is not very likely to rise quicker than the broader economy is growing. This will impact the earnings of large oil producers, the following of which I will include in my prediction: Exxon Mobil (XOM), Chevron (CVX), BP (BP), Shell (SHEL) and TotalEnergies (TTE). Oil had a great year in 2022, but I expect 2023 to be different.
#3 Luxury goods stocks
During recessions, usually demand for luxury products decreases. There have been some very successful large luxury goods companies over the last couple of years, namely Louis Vuitton Moët Hennessy (OTCPK:LVMHF), Kering (OTCPK:PPRUF) and Dior (OTCPK:CHDRF), which coincidentally all originate from France. These companies produce upscale champagne, perfumes and make-up, among many other products.
The last couple of years, these companies have experienced some very decent performance, as can be seen in the graph: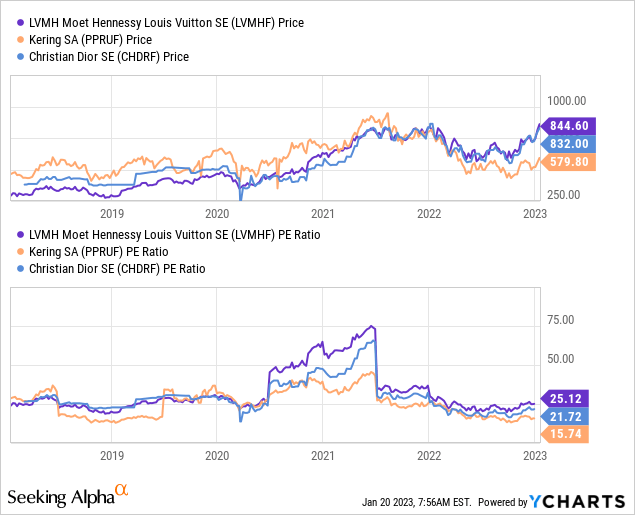 Graph 3: Louis Vuitton Moët Hennessy, Kering and Dior share price development and P/E ratio during the last 5 years (Source: YCharts).
Although these stocks do not seem to be very overvalued historically if you consider their P/E ratios (Kering might even seem relatively cheap based on P/E), these ratios will not matter that much if their sales drop as a result of a recession. Although these companies are wonderful firms and are likely very solid long-term investments, I predict that these stocks will underperform in 2023.
#4 ZIM Integrated Shipping
ZIM Integrated shipping (ZIM) has been a much-discussed stock on Seeking Alpha. The company pays an enormous dividend, had some very good performance during the last years propelled by high container prices, but this has shifted.
The Baltic Dry Index is one of the most important benchmarks for the price of shipping dry goods around the globe. At the end of the year 2021, this index reached a high of 5500 points, while it is currently at a 2.5-year low of 801 points. This explains a big part of why ZIM is trading for such a relatively low price and has such a monstrous dividend yield.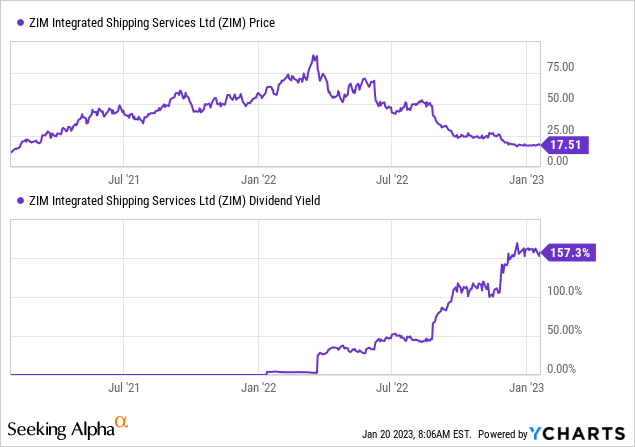 Graph 4: ZIM Integrated Shipping share price development and dividend yield over the last 3 years (Source: YCharts).
With a potential recession on the horizon, shipping rates are not expected to regain their old glory soon. ZIM is a high risk/high reward trade at this moment, but for me, the risks outweigh the rewards. I would definitely stay away from ZIM in 2023.
#5 Dogecoin and Shiba Inu
Dogecoin (DOGE-USD) and Shiba Inu have already dramatically underperformed in 2022, and I expect this trend to continue. Both coins are simply meme coins without any technical benefits over their alternatives. Still, they both command market capitalizations which seem to indicate they have real advantage and benefit: $11B for Dogecoin and $6B for Shiba Inu.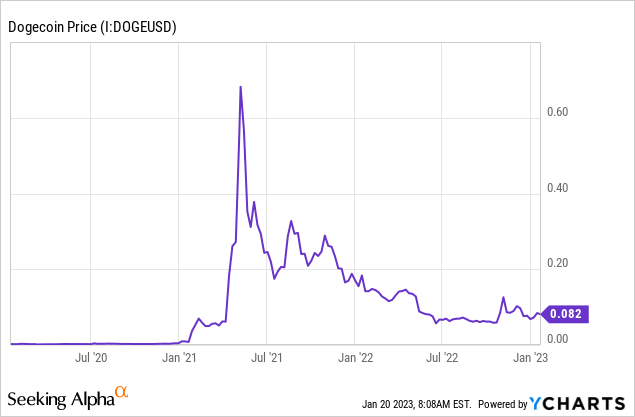 Graph 5: Dogecoin price development over the last 3 years (Source: YCharts).
Recession or not, I expect both Dogecoin and Shiba Inu to continue their descent into obscurity in 2023.
#6 Cruise lines
Cruise lines have had a difficult time during covid, and if there will be a recession in 2023, these are among the luxury expenses which will experience another drop in demand.
Carnival Corporation (CCL), Royal Caribbean (RCL) and Norwegian Cruise Lines (NCLH) are some of the largest cruise lines, so I will include the stocks of these companies in my prediction.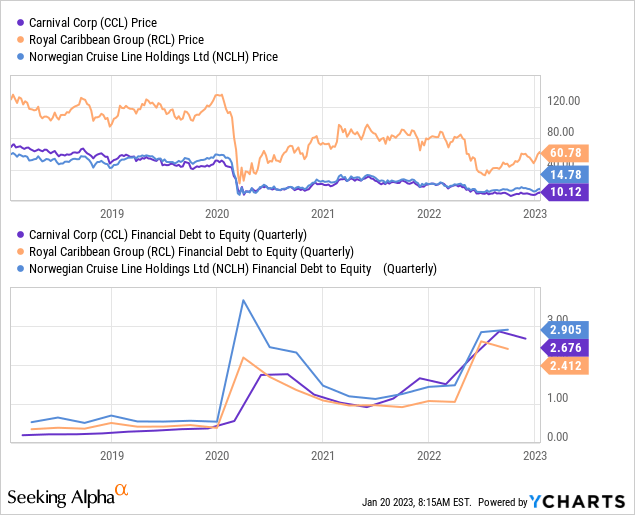 Graph 6: Carnival Corporation, Royal Caribbean and Norwegian Cruise Lines share price development and financial debt to equity ratio over the last 5 years (Source: YCharts).
Not only problems on the demand side are expected to be an issue for cruise lines, but most of them have dramatically increased their debt during the last couple of years, as can be seen in graph 6. Coupled with an environment with increasing interest rates, this might prove to be an additional problem for the companies in 2023 and beyond.
#7 Plug Power
Plug Power (PLUG) is also a much-discussed stock on Seeking Alpha, and I recently wrote an article why I believe this stock will underperform in the short term.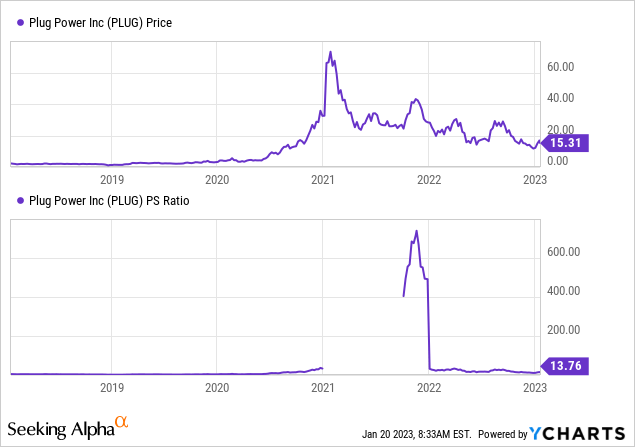 Graph 7: Plug Power share price development and price to sales ratio over the last 5 years (Source: YCharts).
In short: with a market capitalization of almost $10B and a P/S ratio of almost 14, Plug Power is priced as a promising growth stock, which it might be. But management has a history of continuously overpromising and underdelivering, and the hydrogen market has some important headwinds during the coming years. In particular, the energy crisis has the potential to continue to impact the company's business on the short to medium term, and in my opinion, Plug has too much short-term optimism baked into the price.
Plug Power might become a long-term winner, but I expect this will not be the case yet in 2023.
Wrap-up
So, in short, here are my predictions of stocks and investments which I believe will underperform in 2023:
| | | |
| --- | --- | --- |
| Number | Category | Investments |
| 1 | Overpriced EV producers | Tesla |
| 2 | Oil | Brent Crude, Exxon Mobil, Chevron, TotalEnergies, Shell, BP |
| 3 | Selected luxury goods | Louis Vuitton Moët Hennessy, Kering and Dior |
| 4 | Shipping | ZIM Integrated Shipping |
| 5 | Crypto meme coins | Dogecoin and Shiba Inu |
| 6 | Cruise lines | Carnival Corporation, Royal Caribbean and Norwegian Cruise Lines |
| 7 | Hydrogen | Plug Power |
I promise to review these predictions at the end of this year again and compare them with the performance of the S&P 500 Index (SP500) to see whether I was right or wrong. Until then, please tell me in the comment section whether you agree or disagree with my selection!
Editor's Note: This article discusses one or more securities that do not trade on a major U.S. exchange. Please be aware of the risks associated with these stocks.