Ethereum price has nosedived to $1,527, as traders engage in massive profit taking starting January 20. 
ETH has dominated 21% of the discussions on social media platforms as profit- taking transaction ratio spiked. 
Ethereum price could benefit from the fear, uncertainty and doubt surrounding the asset on crypto community forums. 
Ethereum price plummeted to $1,527 after hitting the recent high of $1,638. Experts at crypto data aggregator platform Santiment noted that the massive profit-taking transaction ratio spiked on January 20. 
The altcoin was discussed in 21% of the conversations on social media platforms. Analysts at Santiment believe the FUD surrounding ETH could fuel a bullish narrative for the asset in the mid-term. 
Also read: Here's how Vitalik Buterin's privacy solution could be a game changer for Ethereum and privacy coins
Ethereum traders engage in mass profit taking pushing ETH price lower
Ethereum price wiped out its losses from the FTX exchange collapse and made a comeback above the $1,600 level on January 20. This coincided with an increase in profit-taking by ETH holders. 
Experts at the crypto intelligence platform Santiment noted a massive spike in the profit-taking transaction ratio. This coincided with an increase in social dominance of the second-largest cryptocurrency by market capitalization.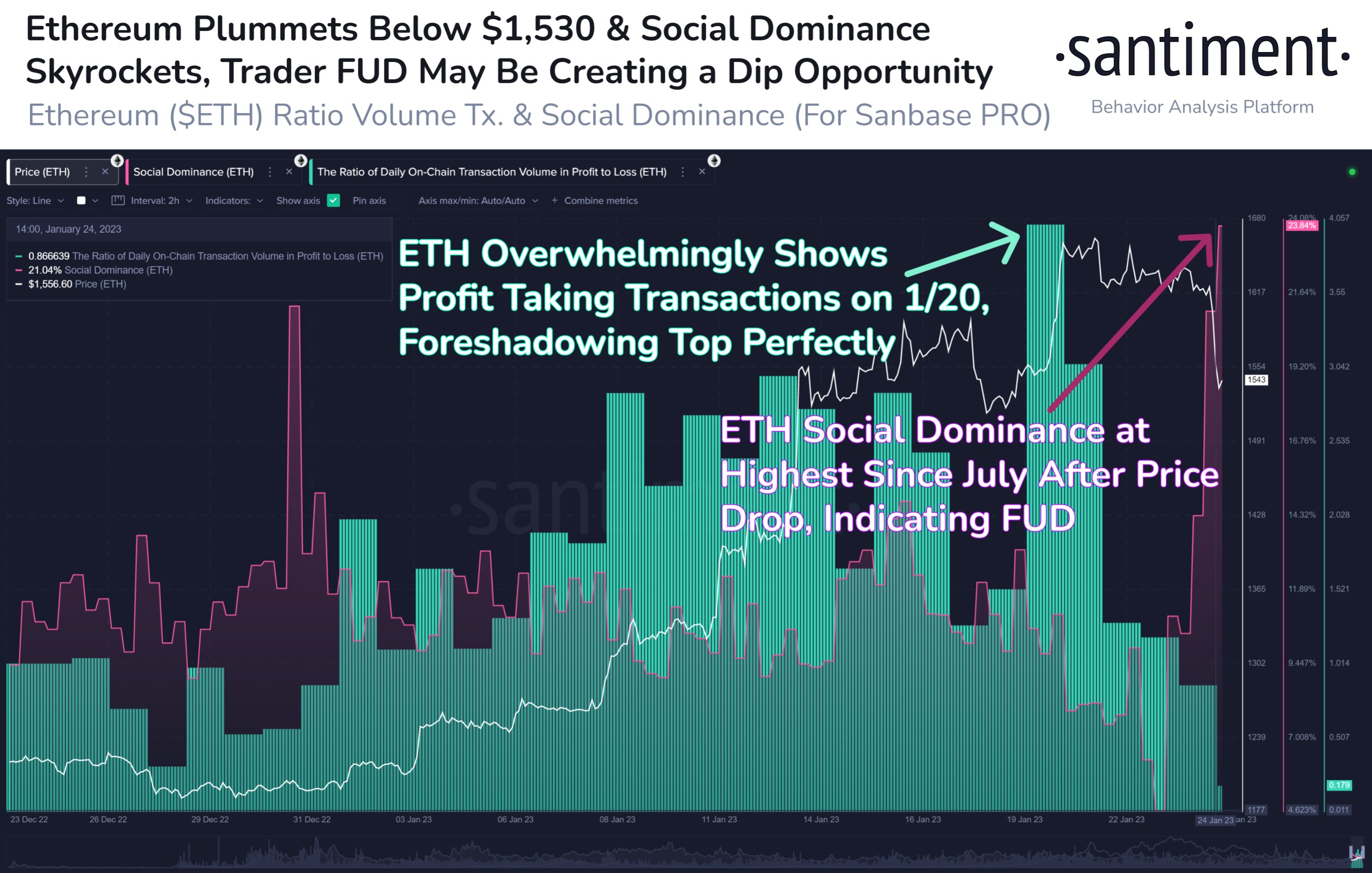 Ethereum social dominance spikes, price drops below $1,530
ETH was the topic of discussion in 21% of the conversations on crypto Twitter and other social media platforms. The Fear, Uncertainty and Doubt (FUD), and the hype surrounding the asset could benefit its price in the mid-term, according to Santiment analysts. 
How to spot and profit from Ethereum whales shedding their holdings
The artificial inflation of an asset's price is known as a "pump." A pump implies that the market will soon experience a downturn and the risk vs. reward of buying the asset does not make it a worthwhile investment. 
To spot "pumps" it is useful to look at the behavior of large wallet investors, known as whales. In case of Ethereum, whales holding between 1,000 and 100,000 ETH started shedding their holdings consistently throughout January 2023 – a sign of a potential "pump".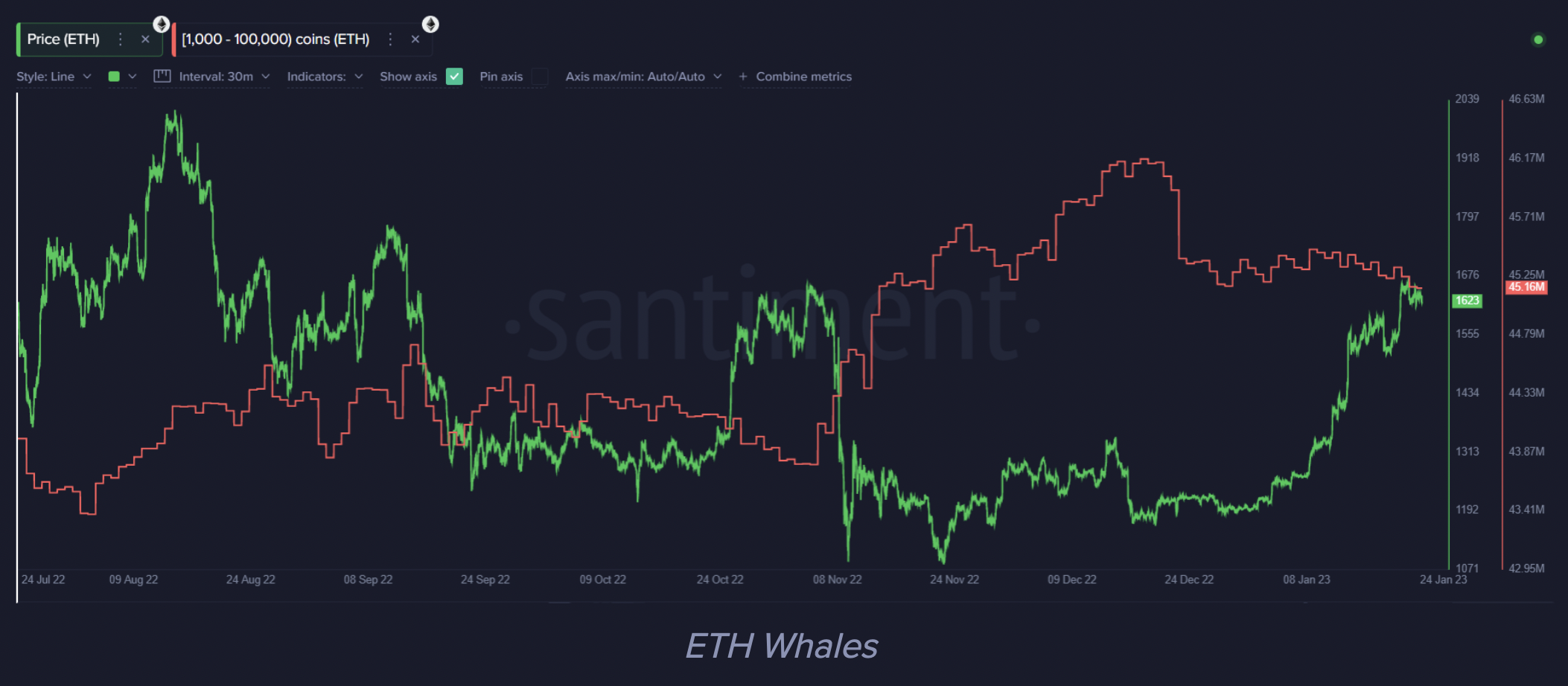 ETH whales
This implies that market participants need to exercise caution and wait for better "buy" opportunities rather than jumping into a potentially unstable trade. 
Ethereum price could witness a run up to $2,000 if Bitcoin bulls make a comeback
Technical analysts argue that Ethereum price could hit the bullish target and the psychologically important $2,000 level if Bitcoin bulls make a comeback. Ethereum has enjoyed a high correlation with Bitcoin, at 0.83. Therefore a bullish breakout in Bitcoin could trigger a rally in the altcoin. 
Akash Girimath, technical analyst at FXStreet argues that Ethereum price could trigger another run-up despite the obvious exhaustion. Such a move will retain the bearish divergence but will allow market makers to collect the buy-stop liquidity resting above $1,679 and trap the early bears.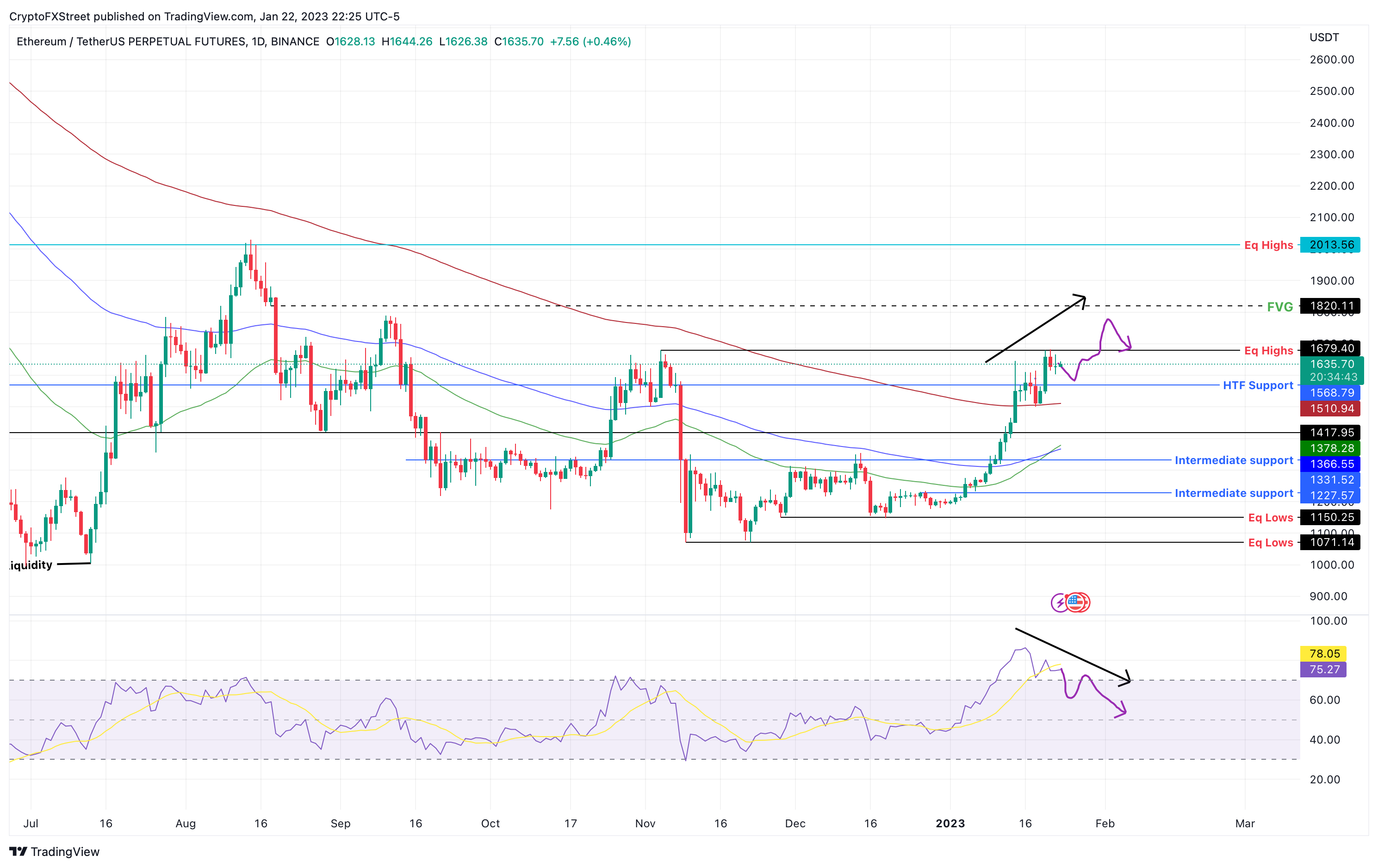 ETH/USDT price chart
During this liquidity hunt, ETH price could extend as high as $2,000. A decline below the 200-day Exponential Moving Average (EMA) at $1,509 could invalidate the bullish thesis for ETH.