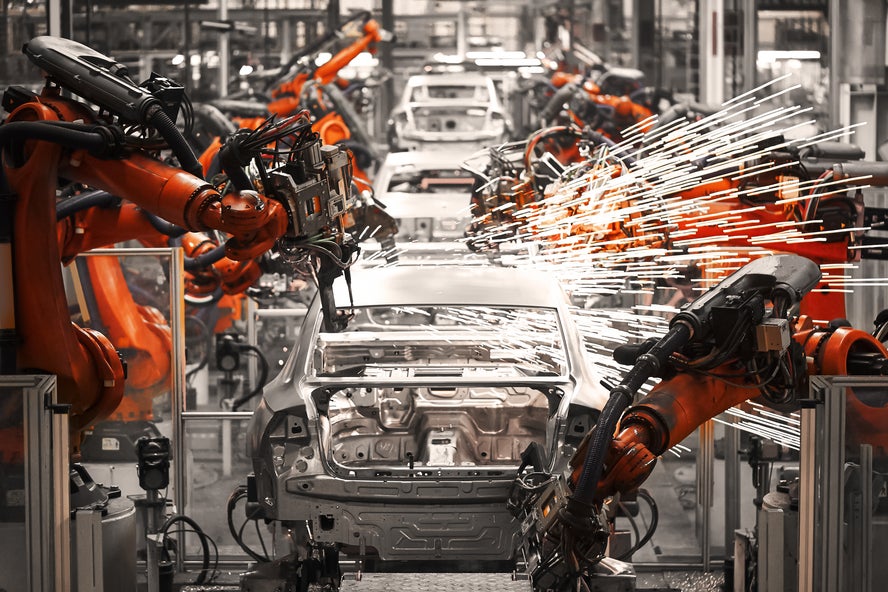 The U.S. economy grew by an estimated 2.9% from October to December, marking the second straight quarter of economic growth, a positive sign for broader markets.
What To Know: Gross domestic product, or GDP, increased 2.9% in the fourth quarter, according to a Thursday advance estimate from the Bureau of Economic Analysis.
The number came in above economist expectations for a gain of 2.6%. 
A second estimated fourth-quarter GDP number based on more complete data will be released on Feb. 23.
The increase comes on the heels of a 3.2% real GDP increase in the third quarter. 
"Compared to the third quarter, the deceleration in real GDP in the fourth quarter primarily reflected a downturn in exports and decelerations in nonresidential fixed investment, state and local government spending, and consumer spending," the release states.
The move was partly offset by an upturn in private inventory investment, an acceleration in federal government spending and a smaller decrease in residential fixed investment.
GDP is the broadest measure of the economy and gauges the total amount of goods and services that were produced during a given period. 
The Labor Department also released jobs data on Thursday. Jobless claims decreased by 6,000 for the week ending Jan. 21 to 186,000 from an upwardly revised level of 192,000 in the prior week. The number came in below average economist estimates of 205,000, according to Benzinga Pro.
Continuing claims totaled 1.675 million for the week ended Jan. 14, an increase of 20,000 from the previous week's revised level.
Why It Matters: The SPDR S&P 500 SPY is reacting positively to the GDP estimate. Many are anticipating a recession in 2023, but Thursday's GDP number looks like a positive sign for economic forecasts.
The Federal Reserve has been relentless in its efforts to tame rising inflation, but after constraining markets with four consecutive 0.75% rate hikes, the central bank opted for a less aggressive 0.5% hike at its last meeting.
In a press conference following the decision on rates, Fed Chair Jerome Powell reaffirmed the central bank's commitment to bringing inflation back down to its 2% goal. Although he acknowledged that recent data was encouraging, he indicated that it was not enough. 
However, since that time, we've seen more encouraging data. Two weeks back, the Labor Department reported a 6.5% year-over-year increase in December CPI, down from 7.1% in November. Several experts have said they believe a potential pause from the Fed is on the table following the print. 
Related Link: Hike, Pause, Pivot Or Cut? 4 Experts On The Fed's Next Interest Rate Move As CPI Data Shows Inflation 'Weakening'
The next FOMC meeting is set to kick off Jan. 31. Thursday's data makes a pause all the more likely.
SPY Price Action: The SPY is up 0.37% at $401.84 at the time of writing, according to Benzinga Pro.
Photo via Shutterstock.