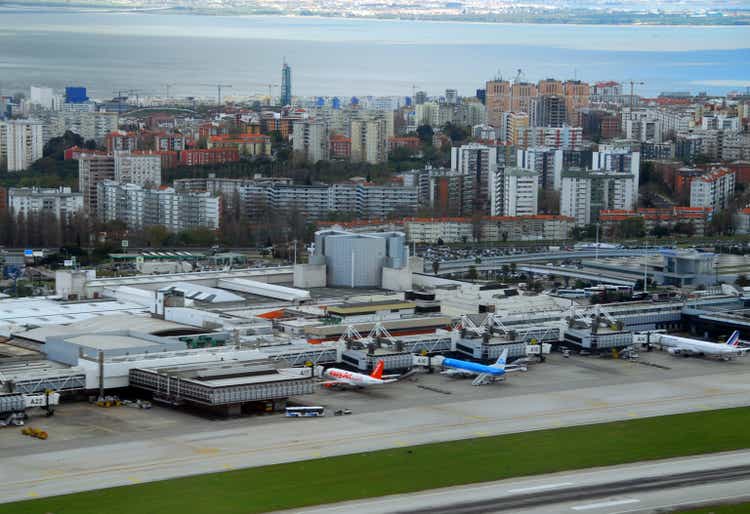 Vinci's (DG:PA, OTCPK:VCISF, OTCPK:VCISY, ) highway concessions made a relatively quick recovery from Covid, as soon as 2021. The recovery in air traffic has been slower, but it is now almost complete, adding another engine to the company's growth. Meanwhile, the engineering division boasts a record order book.
The company, therefore, is in great shape, and this has been recognized by the market with the Euronext-listed stock reaching the €100 mark again. This obviously makes Vinci less attractive for investors looking for quick capital appreciation. A 10% or so pullback would be needed for a better entry point – this is always a possibility, depending on macro developments in Europe.
In any case, Vinci is a sleep-well-at-night stock with predictable returns, which offers growing dividends. Its prospects are solid, and I have no doubt that by continuing its savvy investments in new concessions, it will be able to offset the expiry – a legitimate but overblown concern in my opinion.
Vinci Airports' Recovery Well Underway
All of Vinci's divisions performed well in 2022. The engineering division continued to deliver, and the acquisition of Spanish conglomerate ACS' energy business seems to have gone smoothly. Meanwhile, highway concessions (toll roads) are back to pre-Covid traffic figures. What about airport concessions, the hardest hit segment during the Covid crisis?
Things are looking up for Vinci airports, with the recently-released passenger traffic statistics for FY 2022 confirming the gradual recovery.
Some airports are seen to have fully regained their 2019 (pre-Covid) traffic as of December 2022, while others are still lagging. Such is the case of some Asian assets like Japan and Cambodia, but this too should improve in the near future: Japan's traffic has picked up gradually since the country's late reopening to visitors in Q4 2022, while Cambodia can expect a return of Chinese tourists in the coming months.
One can also notice the presence of the newest holding in Vinci's portfolio, Mexico's Grupo Aeroportuario del Centro Norte (OMAB), following the acquisition of a significant 30% stake, that I discussed in an earlier article. The Mexican operator continues to display strong momentum, which Vinci commented as follows in their press release:
Traffic at the OMA airports in Mexico remained far above pre-crisis levels, growing rapidly during the festive season. Traffic to and from the US was particularly dynamic, powered by the capacity of airlines such as American Airlines, Spirit and Frontier.
Vinci's Valuation And Dividends
With Vinci the company in rude health, the question for investors is whether Vinci the stock still has room for upside. In my opinion, investors should have reasonable expectations going forward, with the recovery largely priced in. The 2022 earnings will be released in early February, but analysts project earnings in the region of €7.30 per share. At the current share price of €103 for the Paris-listed stock, this equates to a P/E ratio of 14.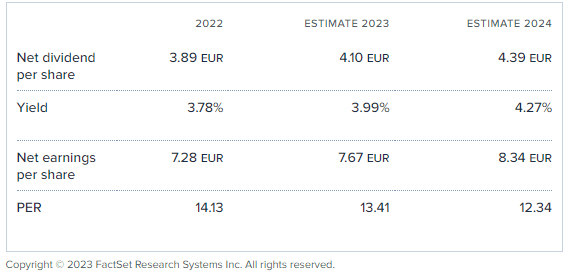 There will be growth in coming years, and the 2023 consensus estimate above seems conservative. In a recent note, UBS' analysts suggested at least 10% EPS growth for this year, and raised their target price to €122. However, this is not what I would call a big upside potential for the stock. I consider Vinci fairly valued, which doesn't mean that it will not keep rewarding investors. I just think that the annual returns will be more or less in line with Vinci's cost of capital, in a 8% to 10% range.
What about the dividends? As shown in the yield row of the table above, dividends in the region of 4% can be expected, in tandem with EPS growth. This is consistent with the policy that has been in place in recent years:
VINCI's Board of Directors determines dividend policy based on the Group's performance, financial position and any other factor deemed relevant. The dividend payout ratio has averaged 50% of the Group's consolidated net income for the past 10 years.

Source: company's website
How Serious Is Vinci's Concession Risk?
Even with mature, well-managed blue-chip companies like Vinci, there are always some risks to consider. One risk which I've seen mentioned here and there relates to the remaining life of some of Vinci's key concessions. This is a fear that is overblown in my opinion. This risk concerns more specifically the French component of the highway division. Vinci currently manages about 35% of the network in France, and it has undoubtedly been a huge cash cow for the company. All good things must come to an end, and most of these concessions will expire between 2032 and 2036:
The highly profitable nature of the concessions is confirmed by their huge cash flow generation: about €2.6 billion of FCF in 2021, and, in fact, closer to €3.3 billion when one excludes the growth CapEx: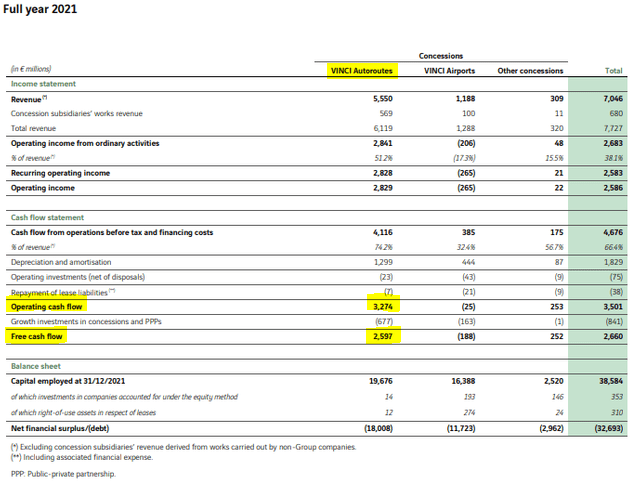 There are two ways to look at it:
For sure, the expiry of these concessions in the 2030s will deprive Vinci of a tremendous asset.
However, between now and the expiry, the company will pile up the cash at a rate of more than €3 billion per year (and growing), possibly more than €50 billion in total.
This cash should be enough to keep paying comfortable dividends while also preparing the future with new concessions. The company has been doing exactly that with new highway deals (see below) and, of course, the airport division.
In a worst-case scenario, I have to mention one specific risk, which would be the forced renegotiation of the concession terms awarded by the French state to Vinci, Bouygues (OTCPK:BOUYF, OTCPK:BOUYY) and Eiffage (OTCPK:EFGSF, OTCPK:EFGSY) in the mid-2000s. The terms have turned out to be very favorable for the private companies (as shown by the FCF we discussed). Toll roads are rarely popular, and, with every election, there are calls by some candidates to renegotiate or even cancel the concessions altogether.
However, this would constitute a blatant breach of contractual terms, which would have far-reaching implications for France as a stable jurisdiction. The current Macron government has always resisted such a move, so any reckless decision would not happen before the next presidential election in 2026 at the earliest – and again, this is highly unlikely.
Takeaway
Vinci's strong performance and solid prospects look baked in the stock price, and investors looking for significant capital appreciation may want to look at other infrastructure plays such as Corporación América Airports (CAAP), which also boasts a promising airport portfolio.
However, even at the current share price, Vinci should provide decent returns, and a growing dividend that makes it a blue chip worth keeping in one's income portfolio.
Editor's Note: This article discusses one or more securities that do not trade on a major U.S. exchange. Please be aware of the risks associated with these stocks.